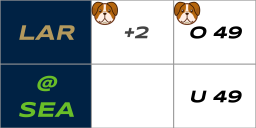 The Dog has to bounce back after a Dog Sh*t showing in Week 4. File this one under Need It AND Gotta Have It.
And after the Buccaneers put up 55 on them on their home turf, so do the Rams. Fortunately for the Rams, Seahawks don't have the barrels of firepower that the Bucco's do.
Seahawks, let's face it. Haven't beaten anyone "GOOD" yet. Wins over Bengals (garbage), Steelers (soon to be garbage), and Cardinals (not sure what they are). Couldn't beat a Drew Brees-less Saints team at home either.
Thursday night game means short week. This lends itself to the offenses. Rams will go for 40 the second week in a row. This time, they won't lose.
The Pick
Don't miss the picks. Follow me on twitter or reddit or BOTH!
Rams +2
Over 49
Two WOOFs