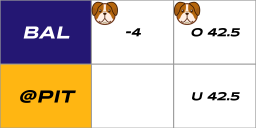 Rewind ⏪to week 3. Some smart ass out there was saying "Let's not buy The Ravens quite yet. They haven't played any good competition yet".
Dog didn't care. My pea-brain was just excited to see The Ravens and Chiefs square off at Arrowhead.
Then Cleveland rolled into Baltimore (Willingly) and made that smart as look, well…… smart.
Sure, we don't really know what the Ravens are yet. Their defense is not the Raven's defense of the past decade and LamJacks is a dice roll every week.
HOWEVER! We do know what the Steelers are. Aside from an OK front-7, this is a team that shed all their talent and is Swiss cheese everywhere else. Yinz is looking at a rebuild in Pittsburgh and we don't need to be smart to know how to play this.
The Steelers looked interesting running the wildcat with Jaylen Samuels and Conner but it was against the Bengals. Harbaugh knows how important it is for Lamar Jackson to bounce back quickly after a couple of bad losses, so I expect their game plan to support it. The Ravens rebound and cover 4.
The Pick
Don't miss the picks. Follow me on twitter or reddit or BOTH!
BAL -4
OVER 42.5
Three Woofs