My dog pound picks need work. No. Doubt. About It. I was 0-5 in week 4. I barely saved face last week going 3-2.
I'm changing it up a bit this week. Moving forward I'm done picking all the games even though I was 52-54-3 picking all the dog crap games. I'll be picking the bets I love this week and that's that.
The Picks
HOU @ KC
I do not believe in this Texans team. Their O line continues to be a problem even with the addition of Laremy Tunsil early this season. I think this O-Line will even let the Chiefs defense look competent.
I also do not think the Houston wins are very convincing. They beat a Jags team in Houston (Which the Jags arguably won on that 2pt conversion), They fended off a Chargers comeback attempt in week 3, and they beat the Falcons who aren't the same team we saw lose in the Super Bowl 2 years ago.
I will concede that their Week 1 opener against the Saints on the road was a bright spot, even though it was a loss. The point is, the Texans beat ok-to-bad teams at best. This Chiefs team is much better than that. Houston is not leaving Arrowhead with a win.
You have to go back to Weeks 5 and 7 of 2015 to find the last time that an Andy Reid Chiefs team lost consecutive home games and you have to go all the way back to Reid's first season with the Chiefs in 2013 to find the last time they dropped 2 home games in 2 weeks. Arrowhead provides one of the best home field advantages and we'll see that on Sunday.
I have no doubt the Chiefs will win this game. The question is, will they cover? The Dog's gut says they win by double digits. But, if you want a stat, I got my stats guy on that too. Under Coach Reid the Chiefs have covered 67% of the time when favored at home by 5 points or less.
Three Woofs! Pound it.
The Pick
KC -4.5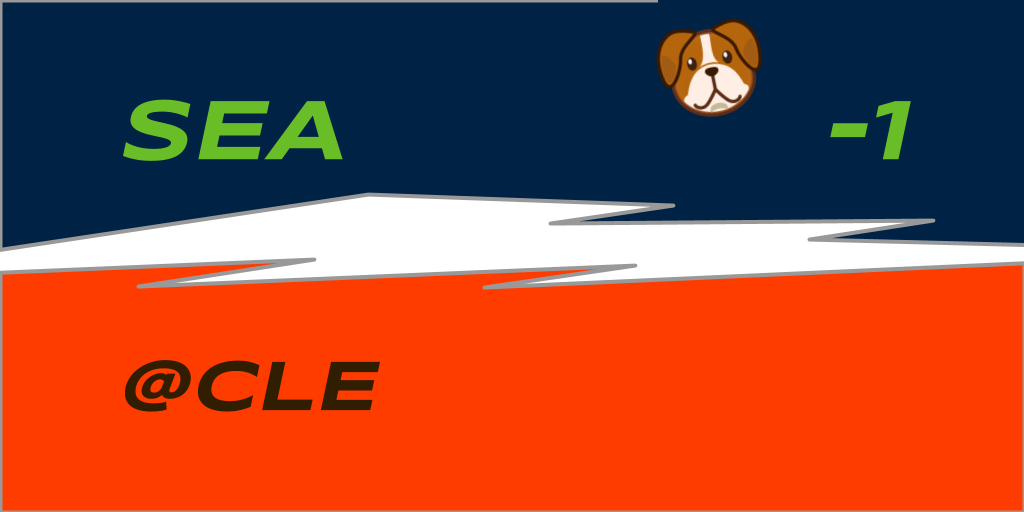 SEA @ CLE
I'll be the first to admit that I don't think about the Seahawks much.
Maybe it is the fact that they are tucked away in the corner of the country. Maybe it's just their reputation of just being an under the radar team that makes hay in the playoffs. Maybe I'm just genuinely jealous of Russell Wilson. Whatever.
But they're playing my Brownies so let's pay some attention. I was expecting to see the Browns a 3 point dog or more and seeing the 1 point made me very confused. What does Vegas know that I don't?
Answer….. A WHOLE LOT.
Now, I am not the smartest guy on earth, but I know that the quarterback matters in the NFL.
Whenever I am confused by a game I always turn the brain off and tell myself to K.I.S.S. it. Keep It Simple Stupid.
So let's turn off those brains and let's keep it simple and look at the quarterbacks.
Russell Wilson
Top passer rating in the league this year at 126.3
Has not throw a pick this year on 150+ attempts
Works with what he's got
Baker Mayfield
Third lowest passer rating in the NFL at 68.5
Leads the league with 8 picks this year on 150+ attempts
Can't figure it out with OBJ, Landry, and Nick Chubb
Don't overthink this one. Tell Vegas to shove it and take this one To. The. Bank.
Three Woofs. Pound it!
The Pick
SEA -1
The Dog's 2019 Record
Dog Pound: 9-11 👎