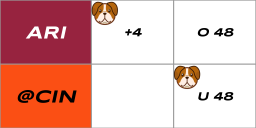 Both of these teams are still looking for their first win. This one's gonna be messy.
The Bengals are just terrible, and JRoss 3 is out. Andy dalton is coming off a performance that left him peeling his sacked ass off the turf 8 times. I don't like what Zac "The Sac" Taylor is doing so far.
But, I don't trust Murray and the Cardinals either. This could be a shit show game so do not pound it. Let's just say Bengals -4 because cardinals D is non existent…. Oh wait Cincinnati's D is giving up EVEN MORE yards per play than the Cards.
Road Dog for This Dog. 🛣🐶
I'm breaking my Arizona OVERS play this week. I may have overestimated The Cardinal's ability to put those late points on the board, and I don't expect The Bengals to be helping out this week. Prove me wrong🙏
The Pick
Don't miss the picks. Follow me on twitter or reddit or BOTH!
ARI +4
UNDER 48
One Woof