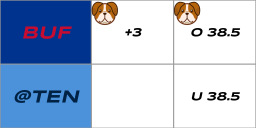 Some games are just gut games, and here's how I feel.
The Titans have struggled this season with bright spots and head scratchers. They are very inconsistent and Mariota just isn't trustworthy.
The Bills have been on a roll this year. Their last loss may have been their highlight of the year keeping it that close with The Patriots.
So I'm going with my gut.
The Bills as a dog? No doubt, it's going in the dog pound.
I've got some more beyond the gut too. Yes, the teams play the game on the field, but this one feels like it's just as much about coaching. Love Vrabel. Love McDermott just a little more. He's got to go against the best in Belichick twice a year, and that makes you sharpers. He showed it last week.
How did this line never move? I'm onto you Vegas… 🤔The fact that Josh Allen is going to play and the line didn't budge makes me think they knew all along. Who cares. Liked the Bills without Allen. Love it now.
Buffalo is 3-1 against the spread so far, maybe Vegas isn't so smart after all. I trust my gut, I love the coach, and the trend is my friend. Bills looking at 4-1.
Who's a computer to place this bet for me?
The Pick
Don't miss the picks. Follow me on twitter or reddit or BOTH!
BUF +3
OVER 38.5
Three Woofs.