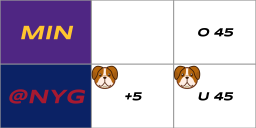 What is going on with the Vikings? Adam Thielen runs his mouth, Kirk Cousins apologizes, Zimmer ain't happy about any of it, and Diggs wants out.
Add all that drama with the fact that Delvin Cook got shut down last week by the Bears and what do you get? An offense that is closer to imploding than one that will figure it out.
The Giants defense is doing ok vs the run (The Vikings bright spot) and pretty poor against the pass (The Vikings $28 million dollar problem)
Too confusing, let's back it up the brain cells.
Vikings are playing their second game in a row on the road, outdoors. The G-Men are playing their second in a row at home.
The Giants seem to be piecing it together, and the Vikings seems to be falling apart. This one could go either way, but I don't expect the winner to run away with it. It'll be close, so we'll take the 5 points.
The Pick
Don't miss the picks. Follow me on twitter or reddit or BOTH!
NYG +5
UNDER 45
Two Woofs