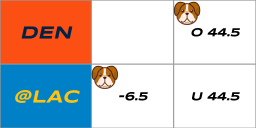 The story and the stats don't line up in this one.
The story goes like this. Vic Fangio is a defensive mastermind and is coming into a defense with Von Miller, Chris Harris Jr, and Derek Wolfe, etc etc and he's going to figure out the scheme that makes this the 85' Bears mixed with the Steel Curtain of the 70's.
The story in Cali is that Bosa and Ingram are going to leaving dents of QBs on the turf with how much pressure they've got.
Two DEFENSIVE BEASTS with aging Quarterbacks, pound the under.
NOPE! Doggy don't think so!
These stories are great. Almost as great as The John Wick series. But they're FAKE! All these signs that say take the UNDER means take the OVER. And Pound It!
Both of these teams sport middle of the pack defenses. 12 and 13 respectively both at 6.1 yards per play. The Chargers have done a better job of keeping points off the board, just breaking in the top-ten at #10, but the Broncos have allowed 93 points this year and are below average.
I think this one will be close at halftime and second half Rivers shows up.
I love the OVER here. I've got no cell service. Who can put this bet in for me?
The Pick
Don't miss the picks. Follow me on twitter or reddit or BOTH!
LAC -6.5
OVER 44.5
Three Woofs